We Empower Your Utility with a Cohesive, Streamlined Work Order Flow
Work Order and Asset Management
Electric
Sewer
Water

Fiber*
Our software connects GIS, Engineering, IT, Accounting, and Management for Electric and Water Utilities with a complete real-time and cloud-based work order management solution.
(*Coming soon)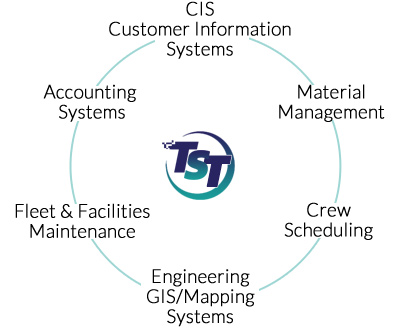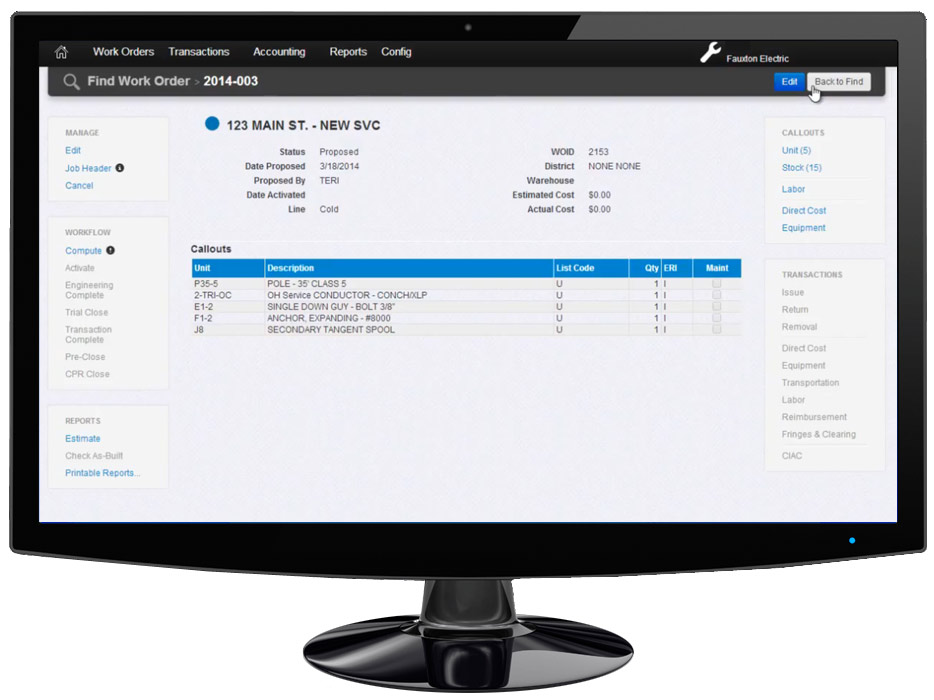 Streamline Work Order Management and Accounting Across Your Entire Organization.
PlantWorks guides your work orders through proposal, design, estimate, build, as-built, cost accounting, unitization, G/L, and CPR to connect Engineering, IT, Accounting, and Utility Management.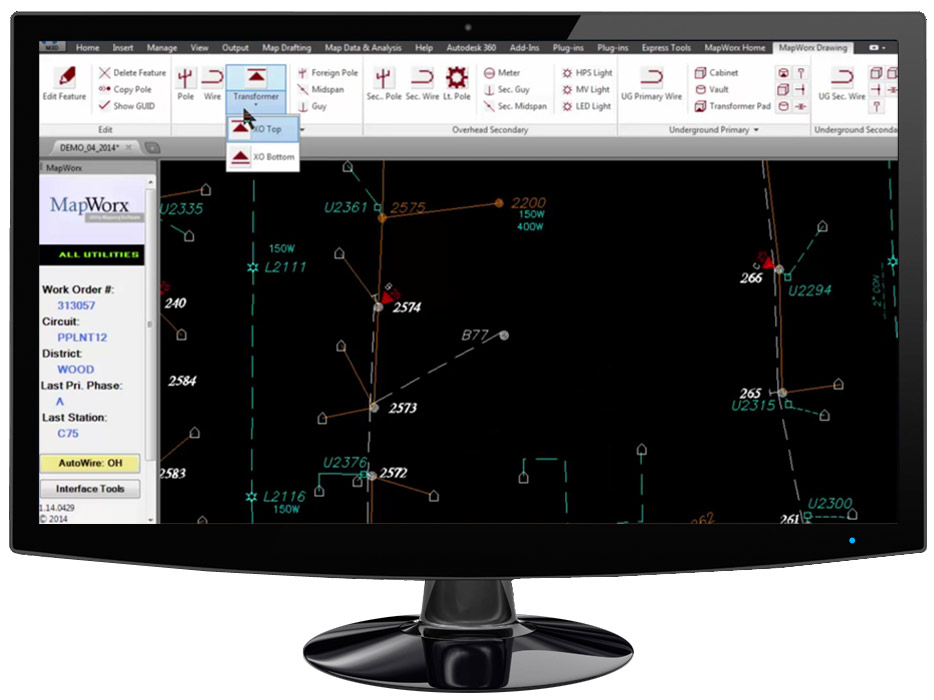 Turn your Utility's GIS into a Turnkey, Integrated Plant Modeling and Staking Solution.
MapWorks leverages the power of drafting and GIS capabilities of Esri ArcGIS Pro and ArcGIS with a simple, straightforward interface to make plant maintenance and management easy and accurate.
"Mapworks and Plantworks products are used in every aspect of our business operations. It is an all-encompassing product that allows us to manage projects, warehouse and fleet vehicles from one interface. Without these platforms, we would be using multiple products that didn't interact with each other to keep track of our operations. This product is the total solutions and saves time, money and frustration for its users."

– Casey Lemke, Electrical Engineer, Oconomowoc, WI
---
Plant GIS and Job Staking
The Mapworks product provides Plant GIS, asset mapping, and job staking / design capabilities. Staking drawings (work order drawings, project drawings) can be executed isolated from your plant map.
Mapworks manages connectivity for electric plant and enables line tools: upline and downline tracing and one-line circuit isolation. Switching tools automatically update connectivity.
Mapworks runs as a plugin for Esri ArcGIS Pro and is backed by database storage. See the Mapworks page for more information on Mapworks and Esri ArcGIS Pro.
Outage Management (OMS)
Mapworks provides Outage Management capabilities when service location data is mapped and CIS is integrated. Probable points of failure can be determined from outage reports.
Asset Management
Plantworks provides Facilities catalog and lifecycle event history for electric plant equipment and water plant equipment. Events flow from the data entry environment into the GIS environment.
Estimating
Work order estimates are generated as a normal part of the design & proposal process. Estimates can be generated with or without the graphical design environment. Controls can be applied globally and per job.
Configuration
Plantworks and Mapworks allow each customer to control their own construction unit and stock definitions. Plant can be described by RUS, Con Edison, custom definitions, or any hybrid that makes sense for your operation.
Collaboration
The Unified Plant Management model allows engineers to model plant and jobs in terms that work for engineers and crew. On a job-to-job basis, the as-built plant model creates a financial scaffolding that Finance can work with naturally.
Integration
Mapworks plant model data can be exported via MultiSpeak for engineering analysis or integration with SCADA visualization systems. CIS data can be integrated to merge customer data with mapped service location data. Custom integrations can be explored for any need.
Accounting Collaboration
Work orders start with the customers, are modeled by engineers, and built by crew. When Finance is engaged for job cost accounting, its important to have clarity about each work order so materials and costs can be allocated with confidence.
The Unified Plant Management model has creates a natural engineering environment that is finance-ready. Through Plantworks, as-built plant construction creates a financial scaffolding for each work order. The system creates a standard language and a routine process between Engineering and Finance. Guesswork is minimized and redundant entry is eliminated through optimized workflow processes.
Capabilities
Plantworks provides job cost accounting, work order unitization, G/L plant account calculations, CPR calculations. Materials Management and Purchasing modules are available to manage inventory and material prices.
During onboarding, TST Client Services will perform a needs analysis to determine which capabilities are required, which modules should be enabled, and how work order workflow should be configured.
Other typical capabilities include:
Integrations with ERP / Accounting packages
Reporting and data exports
Customizations
Unitization
The capitalization / unitization engine is capable of handling simple or complex scenarios. Just like your jobs, a work order can have installation, removal, retirement, and expense components. The engine can handle multiple tax districts, utility-funded and customer-funded distinctions, reimbursements, CIAC, acquired plant. Our customers just plug in the costs, optionally apply controls, and Plantworks does the math.
Impacts to FERC accounting can always be audited and adjusted before committing. Strong work order documentation ties your G/L work-in-progress and asset account activity to work orders.
State Commission Reporting
Year-round job costing and plant accounting activity occurs on a routine basis. Taken in aggregate, these costs constitute the capital and expense activity that are required for state commission reporting. Plantworks can bring confidence to year-end plant accounting.
The Plantworks software provides the following modular capabilities: work orders, materials management, purchasing, facilities (assets), fleet maintenance. Plantworks is cloud-hosted in the Microsoft Azure environment. The web-based application uses responsive layout technology and runs on modern browser platforms including devices.
Mapworks provides plant GIS, graphical staking, and outage management (OMS). Mapworks is premise-deployed software consisting of a plugin client for AutoCAD Map 3D or Esri ArcGIS and a Microsoft SQL Server 2012 database. The local deployment serves high-bandwidth data requirements and ensures access to critical plant GIS in an Internet-outage scenario.
Used together, our systems provide a common language and concurrency between the physical plant model and the financial plant model called Unified Work Management.
Legacy
The TST platform is based directly on legacy software designed in the 1990's in collaboration with utilities for tactical capabilities and strategic efficiencies. The methods and algorithms have been in operation for nearly 20 years.
Highly configurable
TST customers are varied in systems and needs. Our platform is designed to be friendly with existing systems and processes. All modules are optional. Work order workflow is configurable.
Integration
Plantworks is typically kept in sync with warehouse systems, project tracking, payroll, A/R, G/L. Most clients do not invest in automated integration. Automated integration, though, is becoming increasingly popular even with smaller operations, and TST has many options.
The Plantworks Access Library (PAL) is a .Net component designed to provide data services to client environments. Mapworks uses PAL to share work orders, construction unit definitions, and GIS and staking data with Plantworks.
Custom integrations can leverage PAL to simplify integration with your cloud-hosted data.
Plantworks Mirror Database
Clients do not have direct access to the cloud-hosted Plantworks database. We do offer the Plantworks Mirror Database, which keeps a local copy of your cloud data. The Mirror can be Access, SQL Server, or MySQL. Mirror Database leverages the PAL component for access and data synchronization.
Cross-departmental efficiency
The Unified Plant Management model bridges departments and gets everyone speaking the same language. The legacy of Plantworks and Mapworks began in the 1990's. The systems were designed collaboratively with the engineers and accountants and managers of our early utility customers.
What resulted was work order software optimized for distribution utilities and centered around a clear operating model that works naturally and efficiently for engineers and accountants.
But the TST platform is modular and deploys in scenarios where the full value proposition of Unified Plant Management is not needed.
Manage your plant
When you engage TST, we perform a Business Process Analysis to understand your shop, your people, your systems and processes. No two utilities are alike, and TST obliges. Our platform is highly configurable.
For example, your solution can be GIS only, GIS and full work order accounting, no GIS, or external GIS. The work order workflow is customizable. All modules are optional.
One or two-way integrations are possible with ERP and accounting modules. Plant model can be exported in Multispeak format for analysis or monitoring systems.
We think these options give our customers maximum value with minimal compromise. And we think it's friendly.
Standardize operating processes
A joint analysis between TST and our customer answers all of the who, what, when, and how questions. Some amount of Business Process Re-engineering accompanies every installation.
Your utility will then have standard operating processes for departmental functions largely centered on work orders, plant GIS, asset mapping. Standard processes increase efficiency and bring clarity to normal operations. Greater consistency and accuracy replaces ad-hoc decision making.