Streamline Work Order Management and Accounting Across Your Utility's Engineering, IT, Accounting, and Management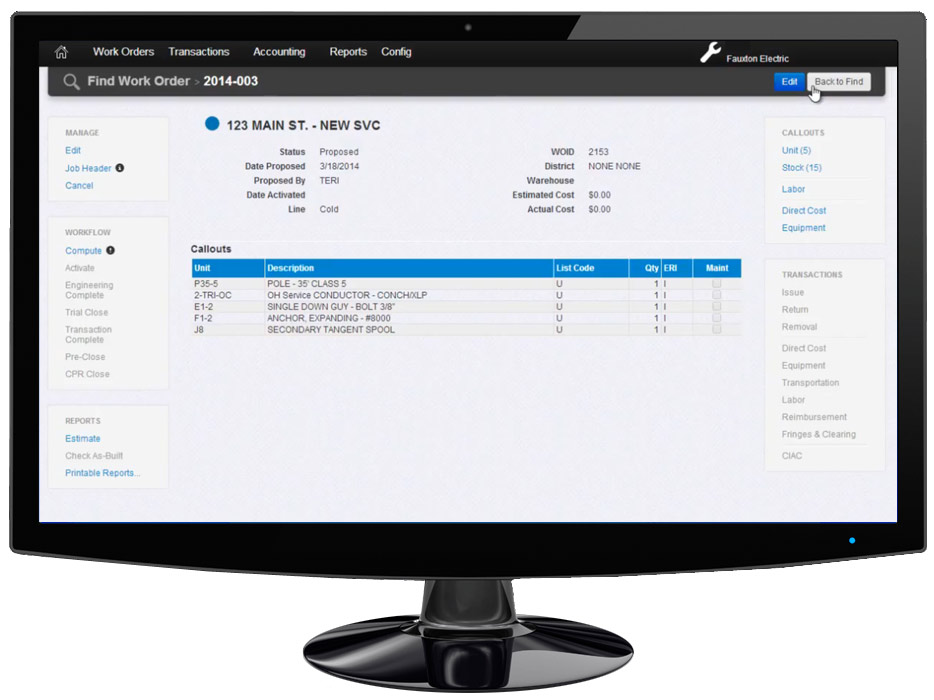 What is PlantWorks?
PlantWorks is a cloud-hosted Work Order and Staking solution for utilities to bridge the gap between departments – mapping, engineering, accounting, management, and IT – streamlining the work order process by automatically creating a financial scaffolding on a job-to-job basis.
Simplifies your utility's work orders through proposal, design, estimate, build, as-built, cost accounting, unitization, G/L, and CPR to connect Engineering, IT, Accounting, and Utility Management.
Inventory Management – Vendor Management – Design and Staking – Work Order Creation & Processing – Accounting and Capital Planning
Enhanced Communication
All departments within a utility can operate efficiently and confidently with the tools, controls, and reporting they need at all times. Timely and accurate reporting means no more guessing and no more spikes.
Eliminate Accounting Guesswork
Our cloud-based solution insures everyone can see the same numbers at all times, effectively cutting inventory carry costs and avoiding spikes. No matter how simple or complex the requirements, the Unified Work Order process that PlantWorks utilizes will fit into your utility and supplement your ERP/Accounting System.
Streamlined IT Infrastructure
PlantWorks is a highly configurable, cloud-hosted platform in the Microsoft Azure environment with a responsive web-based application that works on modern browsers, including mobile and tablet devices. Each of the following components are modular, and optional, according to your utility's needs: work orders, materials management, purchasing, facilities (assets), and fleet maintenance.
Improved Operational Effectiveness
Proactive management and implementation of planned outages is easy with PlantWorks. Combined with the power of MapWorks, you can significantly reduce outage detection downtime and make sure the right resources are assigned to fixing the problem areas, reducing waste and saving money.
Highly Customizable
The Unified Work Order Process with PlantWorks Work orders can be customized to work within your organization. Apply construction, removal, and retirement components as well as complex scenarios such as multiple tax districts, utility-funded and customer-funded distinctions, reimbursements, CIAC, and more.
Easy to Learn
PlantWorks is an intuitive tool that is easy to set up and learn. A familiar web-browser experience means no installs and secure access from a desktop, laptop, mobile, or tablet device. We collaborate to jointly organize and streamline your existing operations around the Unified Work Order Process.
PlantWorks speaks "Engineer" and "Accountant" without compromise.
Watch this introduction to see the benefits of the PlantWorks Unified Work Order Process: